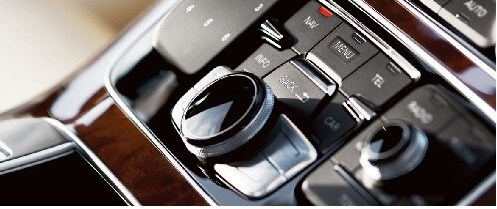 Audi's technology package has been renowned for years. Today, it includes an MMI infotainment interface and Audi Connect, which has the capability to literally make a car into a mobile Wi-Fi hotspot. Of course, there's also easy access to reading Google Maps, including high-res satellite and aerial images as well as panoramic views.

Audit's system has always been somewhat ahead of its time. Today, the MMI operating system provides an intuitive navigation and entertainment system. The Audi MMI Navigation plus with MMI touch connects drivers to a full range of functionality including wireless Bluetooth for mobile phones and music players, and tactile toggle switches that simply access primary vehicle functions. It even provides handwriting recognition. And with the 2017 Audi models, there are new features such as a joystick-like controller that's positioned near the vehicles gear shift and comes with toggle switches accessing phone, navigation/map and media and radio functions. There's a touchpad in front of the controller that allows controls to access the menu, shortcut keys, and submenus as well as a volume control and a function to skip to the next radio station or music track. The 7" inch screen on the dash is moveable, capable of being lifted and tucked away.

Examining some of the stellar, high-end features in the Audi's system, consumers may have a few questions, such as - what's the point of a handwriting recognition system? Accurate at inputting characters, the system can be used to enter navigation directions, find phone contacts, search for the fuel finder, or information in the owner's manual built electronically into the system. In short: customized knowledge.

The Audi's virtual dashboard is another prime feature, an instrument cluster with two separate modes. One includes a large speedometer and tachometer, the other reduces gauge size in order to present other material such as a large scope Google Earth map.

Switches on the steering wheel allow easy access to audio and phone controls that keep drivers' eyes firmly focused on the road. The Audi's superior voice recognition software makes replying to texts and sending messages simple.

The system also conects to both Apple CarPlay and the Google Android Auto, meaning any of these systems can be utilized instead of the Audi's own Bluetooth in order to read or reply to texts or other voice-controlled tasks.

The Audi Connect system concisely offers access to news functions including weather, travel information, and fuel price and parking services. Probably the most refined and welcome feature is the capability of connecting a Wi-Fi hotspot, although the Google Earth map technology is certainly another key and coveted function.

Audi offers a free 6 month trial for built-in AT&T 4G LTE connectivity. After that time, a subscription is required but drivers who prefer not to opt in can still use Android Auto or CarPlay through their phone's own cellular connection.

All in all, the 2017 Audi's infotainment interface and Audi connect work well hand in hand with smart-phone connectivity options. The MMI, if not precisely ahead of it's time, is certainly of it's time, offering stellar service, easy controls, and a sleek design that's easy for drivers to master. In fact, it just may be the top system out there without touch-based controls.