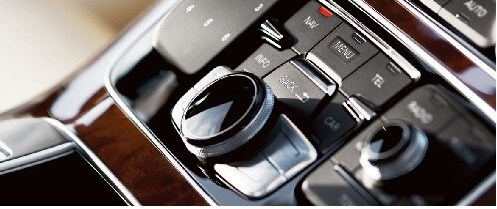 Audi Technology Package
Audis are impeccable cars with top of the line technology. Audi technology packages are available on all Audis, with slight variations in price and content. Let's take a look at what you typically get from Audi when you choose an Audi Technology Package.  
Audi MMI Navigation Plus
Audi MMI Navigation Plus offers exemplary navigation technology for drivers, to a level of convenience previously unthought of. This technology features a touch and go navigation system that allows the driver to communicate with their Audi at the touch of a button. It has immediate feedback with technology and graphics that are at the top of its field. 
This feature feels natural and is easy for the driver to learn because it essentially operates exactly like a smartphone. 
Audi MMI Navigation Plus features natural and has simple voice controls that put drivers at ease. Best of all, drivers can pinch, tap, and swipe at their dashboards exactly like how they would with a smartphone. MMI Touch even allows the user to customize touch so that it is right for them. 
Audi Connect
Audi Connect offers you top of the line online services. This technology package is highly intuitive and is designed to help drivers get where they need to go quickly and efficiently. This package features Google Earth, which helps drivers navigate around anywhere that is unfamiliar with them. It also includes a custom navigation app. 
In addition, the Audi Connect even offers information about parking so you will always know where to park and which lots are available. 
Other unique features include natural voice recognition, so language will be customized directly to the driver, and a stellar Wi-Fi hotspot. Now, drivers can have the Internet wherever they go. Stay informed now more than ever with Audi Connect. 
Audi Side Assist
Audi is also constantly developing new ways to help drivers perceive anything that can compromise their safety on the road. Introducing the Audi Side Assist technology package, which can help reduce any risks and helps the driver avoid any worst-case scenarios. This package offers pedestrian safety information and vehicle preparation detection. Now more than ever, drivers will not compromise the safety of themselves or others and can be informed about where to drive and which places to avoid. 
This package also offers real-time collision avoidance tech. This helps the driver avoid any fender benders and maximize their safety. This package also offers a variety of cameras and other sensory technologies that work as a virtual backseat driver. The system helps you gain peace of mind as you travel down any type of road, whether it is a busy highway or a country road. 
Audi Smartphone Interface
Audi's Smartphone Interface is the future of communication in the automobile. Audi allows users to connect its models to the World Wide Web and successfully integrates smartphones into the in-vehicle experience. 
Audi Connect features navigation tools, such as Google Earth and Google Street view. In addition, it also offers a variety of safety services, which may help make emergency calls or even online roadside assistance requests. In the event of a serious accident, the car can even initiate a call independently. 
The other part of the package is the remote service. It has the capability to store information about where the vehicle is parked and provide a status report about the open and closed state of the windows, doors, and trunk. This is the ultimate safety-first feature. 
Finally, Audi has digitalized the traditional car key and has transferred it to the driver's phone or mobile device, so that they can be used to unlock and even start the car. 
Bang & Olufsen Sound System
Finally, the Bang & Olufsen Sound system provides the driver with amazing in-car sound design. This advanced 3D sound system is state of the art and includes customized speakers, two moving tweeters, an awesome surround-sound acoustic experience, solid aluminum speaker covers, up to 1920 watts of application power, advanced vehicle noise compensation, and even sound tuning. This premium sound system delivers audio that resembles any concert hall or professional musical setting right from the driver's car. 
Audi's State-of-the-art Technology
To sum up, Audi offers a variety of technologies wrapped up in a Technology Package. Visit our dealership to experience the tech for yourself and decide on what is right for you, Audi offers an amazing and extensive list of top of the line and state-of-the-art technology to help make your life easier. There are slight differences in each package, so we can help you choose what is fitting for you. Happy driving!