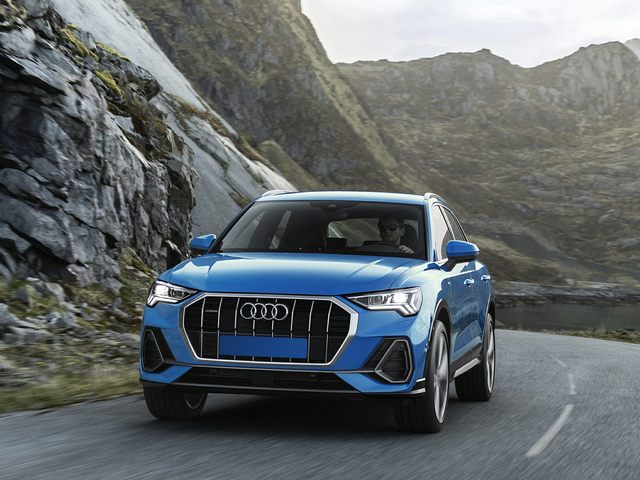 Some things get better with time, just like a fine wine. The 2019 Audi Q3 is the culmination of its predecessors' decades of innovation. To this day, Audi retains one of the most unique and recognizable styles in the auto market and excels at combining luxury, style, and performance. 
The 2019 Audi Q3 is a crossover SUV that is a step above the Q2 subcompact crossover SUV in both size and power. The latest sport utility vehicle features dynamic turn signals on the LED taillights that illuminate in a special sequence. This is just one example of the unique features that give the Q3 its style and flare. 
The Q3 is also loaded with new technology such as Audi virtual cockpit plus that replaces the traditional instrument panel with a 10.25" digital display capable of displaying GPS, speed, and other pertinent information to the driver. 
Let's take a closer look at what is inside the 2019 Audi Q3 as well as why the vehicle is a great choice for those looking for a crossover SUV. 
Engine & Performance 
There are two models to choose from, the 2019 Audi Q3 and the Q3 S line that costs slightly more than the base Q3. 
Under the hood of the 2019 Audi Q3, you will find a 2.0-liter TFSI four-cylinder quattro all-wheel drive engine that produces a sizable 228 horsepower and 258 pounds per foot of torque. The base Q3 gets 19 miles per gallon in the city but 27 miles per gallon on the highway where it is noticeably more fuel-efficient. 
The 2019 Audi Q3 S line also comes with a 2.0-liter TFSI four-cylinder quattro all-wheel drive engine and also produces 228 horsepower with 258 pounds per foot of torque. 
The 2019 Audi Q3 can tow up to two tons of weight making it capable of towing everything from a utility trailer to a tent trailer. 
Style & Interior 
The 2019 Audi Q3 has benefited from years of innovation and design improvements and each year the designs are more streamlined and beautiful than the last. The most recent iteration of the Audi Q3 has slender contours that slice through the wind like butter. Its beautiful design is highlighted by dynamic turn signals that light up in succession adding a premium touch. Even the front headlights have a high-tech design that can lower from high beam to low beam when it detects oncoming traffic. It also has high power sophisticated daytime running lights. 
Things get even more beautiful when you get inside the Q3 and see the custom LED lighting that accents the interior. The lighting can also change color to suit the driver's mood. 
The spacious interior features Audi's MMI touch response system that is large and can connect to various apps and smartphones. As for the seats, they are all leather and the front ones are even heated. You can also add Audi virtual cockpit plus which replaces the traditional instrument panel with an impressive 10.25" digital display. 
Notable Features 
The Audi Q3 has one of the most unique instrument clusters of any models with Audi virtual cockpit plus. The 10.25" digital display can show the driver real-time Google Maps GPS as well as all of the features you would expect to see from a traditional instrument panel. 
The 2019 Audi Q3 can also connect to any smart device through Audi connect. That includes services such as Google, music streaming apps, Yelp, and many more. 
The Q3 can also serve as a mobile Wi-Fi hotspot so you are never without a connection. 
Another notable feature of the Q3 is the interface, which has a personal touch function. The personal touch allows users to write with their fingers on the display instead of trying to type on a tiny virtual keyboard. Just use your finger to write a word like 'hotel' and personal touch will do the rest. 
It would not be right to end without mentioning the premium sound, which Audi has become known for. The 2019 Audi Q3 features a Bang & Olufsen 3D Premium Sound System that consists of 15 speakers. The speakers are powered by a 680-watt audio system that utilizes direct sound waves to create an unrivaled listening experience. The premium sound quality makes it a pleasure to drive and you'll want to drive just to listen to your favorite music. 
Last but not least, there is a built-in function called myAudi to help you find your vehicle. Simply pull up the myAudi app to monitor your vehicle or find it in a crowded parking lot. 
With all of these great features wrapped up in an attractive package, it's little wonder why the Audi Q3 is a fierce competitor in the sport utility crossover market.  
Hours
Monday

8:30am-5:00pm

Tuesday

8:30am-5:00pm

Wednesday

8:30am-5:00pm

Thursday

8:30am-5:00pm

Friday

8:30am-5:00pm

Saturday

9:00am-2:00pm

Sunday

Closed