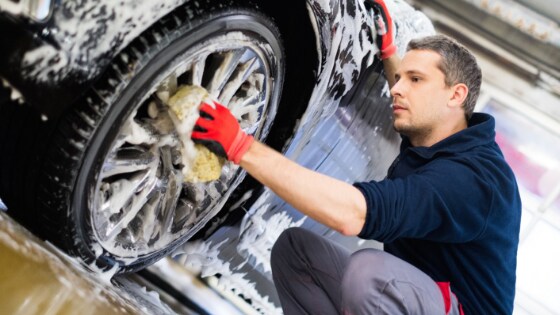 Detailing at Fletch's Audi Petoskey of Michigan
Professional car detailing is something many Michigan drivers don't think about. Some people think car detailing is the same as getting a car wash. In fact, cars need protection from the elements, and proper detailing can help save you from costly repairs. 
After investing a lot of money in the purchase of your car, it is of the utmost importance to protect that investment. This is where car detailing comes into play. Car detailing protects both the inside and the outside of the car from the elements and wear and tear that would damage it over time and lower the overall value of the car. 
As important as it is to have a car detailed, a detailing operation is only as good as the professionals who are performing it. That's why at our state-of-the-art detailing service center located at Fletch's Audi Petoskey of Michigan, all our customers can be assured that they are getting top quality treatment and service. We have been guaranteeing the satisfaction of all our customers since the day we opened, and we aim to continue pleasing the people of Michigan. 
A Professional Job Done Right
Although we are an Audi dealership, this by no means limits the kinds of makes and models of vehicles that we detail. We offer our professional hands-on services to any and all cars, trucks, SUVs, and motor vehicles. We never use any machines. We make sure to feel every nook, cranny, and crevice of your vehicle to ensure that every part of the paint and trim is in top condition. You won't ever have to worry about getting your car back damaged due to automated machinery. 
20 Dollar Hand Washes 
For those not looking for a full detailing, we offer the best hand wash in the business. For 20 dollars, we will wash the exterior of your car by hand, as well as vacuum the interior of your car, truck, or SUV. This is an excellent idea to keep your vehicle looking great between full details. We also provide a reward for repeat customers by offering a punch card that gives a free car wash after every five washes! 
Exterior Car Detail 
For those looking to detail the exterior of their car only, we offer a complete exterior detail service for your car, truck, or SUV.
This entails a complete hand wash of the vehicle with no use of any machinery that could damage your vehicle, a mild acid bath to remove any and all rail and brake dust that is on the car, a professional grade hand wax completed by hand, a complete window cleaning inside and outside of the car, and an interior vacuum. 
Interior Car Detail 
For those looking to detail just the interior of their vehicle, we offer a complete cleansing of the inside of the car. This includes shampooing and vacuuming the carpet, floor mats, and cloth seats, full window cleaning inside and outside of the car, exterior hand wash, and a full clean and dress of the interior trim, dash, door panels, console, and everything else inside. 
Full Car Detail 
The full car detail is where the real magic happens. This is the exact same treatment that causes the fresh cars on our Michigan Audi lot to look so incredible. This package involves everything from the exterior car detail and the interior car detail all at the same time. This will completely transform anyone's car, truck, or SUV immediately, bringing it back to near-showroom condition.
Get That New Car Smell 
The first thing everyone remembers and loves about their new car is that smell. There is something so satisfying about that fresh new car smell that people are drawn to. The question few drivers ask themselves, however, is where exactly does that smell come from? Well, the answer is, from the detailers. That car smells that way because before it was put on the showroom floor, it was detailed by professionals.
At Fletch's Audi Petoskey of Michigan, we personally make sure that every vehicle on the Audi showroom floor not only smells wonderfully brand new but also sparkles and shines the way only a newly detailed car can. 
Sometimes people wonder why their car seems to have lost that brand-new look that it had when it was first purchased. Even though they took great care of their vehicle, they cannot match the skills of a professionally trained car detailer. At Fletch's Audi Petoskey of Michigan, we take pride in making sure our customers' cars keep that sparkle all year around.