The Audi Dealership At Your Door Program
Audi Petoskey understands the impact that our local community is feeling as a result of the Coronavirus (COVID-19). We want to share with you our plan to help protect the health of our customers and our employees which is always a top priority. 
Our housekeeping and sanitization efforts in our stores have been greatly expanded to help ensure the health of our employees and our customers. All of our vehicles and customers' vehicles will be sanitized when in for service or out for test drives. 
At this time, our stores are open for business during their regular hours to meet the needs of our customers. In addition, we are happy to announce Audi Dealership At Your Door to help support efforts to reduce social contact and lessen the spread of COVID-19.  
We understand that many of our clients are uncomfortable and or unwilling to make the trip in store at this time. We will diligently work to offer timely servicing for all of your vehicle needs.
Audi Dealership At Your Door program includes: 
 Test drives brought to your home/office
Sales: 888-478-1060
 Virtual Trade Appraisals 

James Skop
Inventory Manager
231 487 9640

Free Pickup & Delivery for Vehicles in Service
Josi
231 487 9636 Service

No charge pickup with purchase of detailing and sanitation services


Josi
231 487 9636 Detail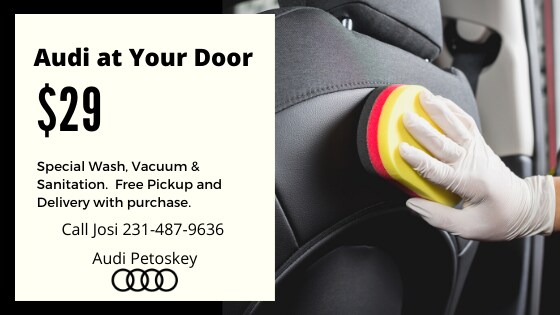 Please call us for more details on any of these offerings to help meet your needs; we are in this together.
Audi Petoskey 
Service Hours:
Monday - Friday 7:30 - 6:00 PM
Sales Hours: 
Monday - Friday 8:30 - 5:30 PM
Saturday 9:00 - 2:00 PM