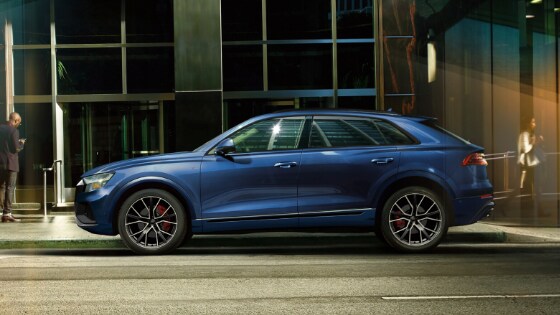 2020 Audi Q8 
The 2020 Audi Q8 is the latest SUV crossover from Audi and features masculine fenders and an athletic shoulder line. The slowly curving roofline makes for a great look and spacious seating for both front and rear passengers. The front grille features a new iconic design that remains recognizably Audi. The strong contour of the shoulders evokes the image of an athlete ready to take off. This luxury crossover features black optic exterior touches and a 5V spoke star design on the wheels. 
What's New on the 2020 Audi Q8?
One of the improvements to the 2020 Audi Q8 is dynamic lighting that turns Illumination into art. A row of LEDs become turn signals for an unmistakable look. 
Other new features include Audi Adaptive Cruise Assist that allows drivers to remain at a comfortable distance behind the vehicle in front of them. The car will automatically increase or decrease speed in order to remain at a safe following distance.
Another great feature of the 2020 Audi Q8 is the top view camera system with a virtual 360 view all the way around the car. This means drivers now have an unprecedented view of their surroundings for safer driving and easier parking. 
Engines 
The 2020 Audi Q8 comes with a Quattro 3.0 V6 that produces 335 horsepower and 369 pounds per foot of torque. Despite being a large and versatile crossover SUV, the 2020 Audi Q8 can reach 60 miles per hour from a standstill in just 5.6 seconds. 
It is incredible how much performance Audi has squeezed out of its 3.0L V6 engine. The 2020 Audi Q8 can even tow up to 7,700 pounds. This vehicle will let you travel in style with power on demand when you need it and all-wheel drive to support you for when the roads get tricky. 
Trim Levels on the Audi Q8
The 2020 Audi Q8 comes in three available trims. The trim levels are the Premium, the Premium Plus, and the Prestige. 
The Premium trim level comes with a 5/5 TFSI Quattro 3.0L V6 with 20-inch 5-arm-design wheels and 275/50 all-season tires. The next step up is the Premium Plus that also offers a 3.0L V6 engine but with 5-segment 21-inch spoke-W wheels and 285/45 all-season tires. Finally, the top of the line Audi Q8 trim level is the Prestige. The Prestige trim level also comes with a 3.0L V6 engine and has HD Matrix design LED headlights with animated LED taillights.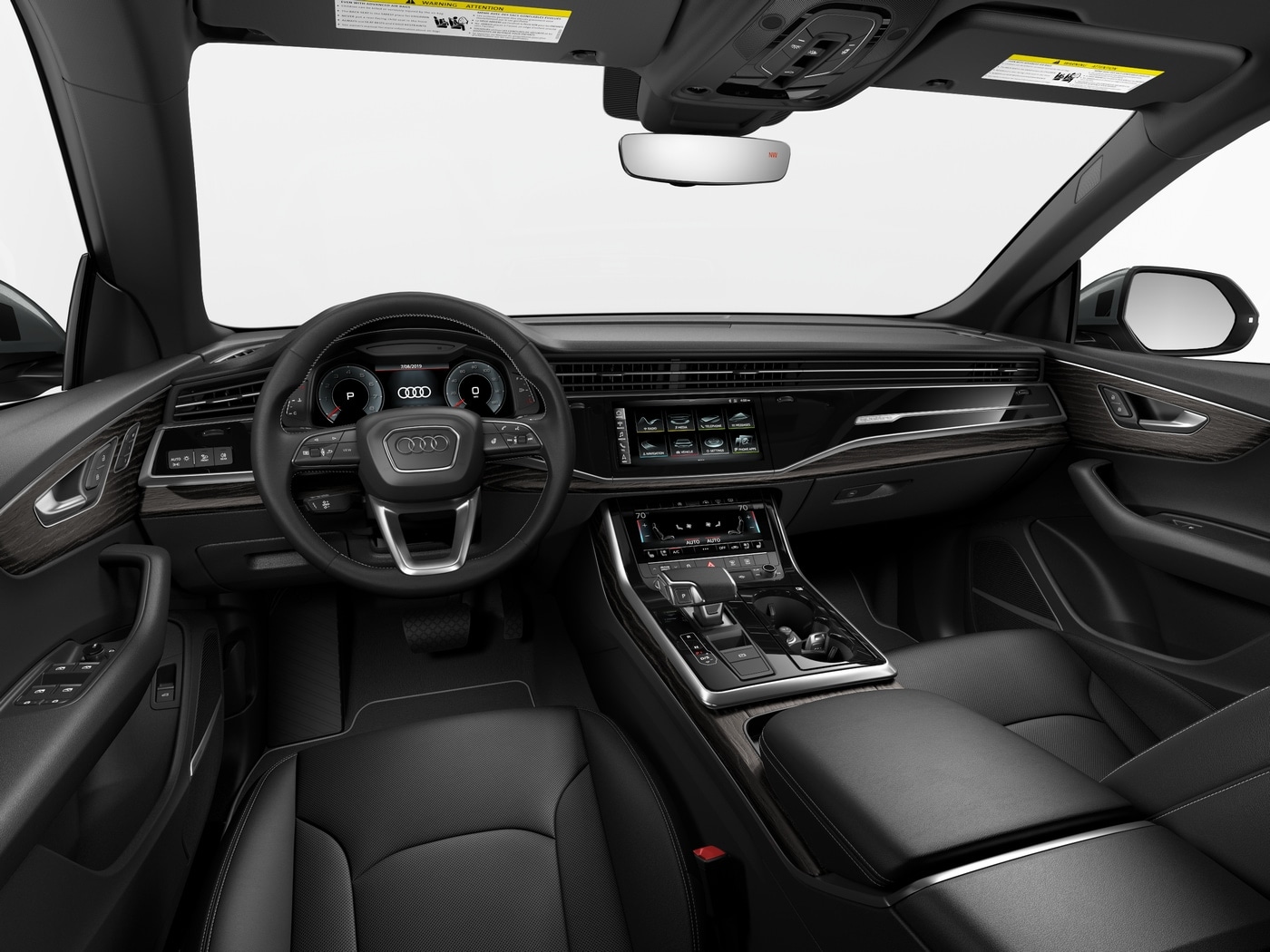 Interior 
The interior of the 2020 Audi Q8 is simply breathtaking. You can tell there has been so much care and time put into designing every single contour angle and every seam looks perfectly balanced and very clean. 
Mood lighting brightens up dark areas and accents with various colors. There are over 30 colors to choose from when deciding on the mood lighting you like best. 
The air conditioning has dual climate control zones for front passengers and an MMI touch response system for easy selection. 
The interior of the 2020 Audi Q8 also comes with Audi Virtual Cockpit Plus, which displays on a 12.3-inch full HD resolution display. This display has a classic layout with traditional tachometers and speedometers and an infotainment layout that includes a large navigation map.  
Exterior 
The exterior of the 2020 Audi Q8 Features a design that is intended to evoke an athlete preparing to charge and it makes for a stunning look. The sporty design makes use of broad shoulder contours intended to mimic a runner at the starting line. 
One of the highlights of the 2020 Audi Q8 is the HD Matrix design LED taillights and headlights. These lights animate in a sequential order to indicate the direction you are signaling to turn. They are perhaps the most stylish turn signals on the whole market. 
Even More Features 
Another great feature is a heads-up display with navigation system information. This means that the speed you're traveling and other important information is displayed on the windshield itself like a hologram. 
There is also an available driver assistance package, a leather dashboard with contrast stitching that can be customized, and aluminum-optic touch-sensitive interior buttons. There is no doubt that part of the joy of owning this vehicle comes from learning each of these new features and customizing them to your preferences.
The 2020 Audi Q8 is simply a stunning luxury SUV, and a top pick for 2020.